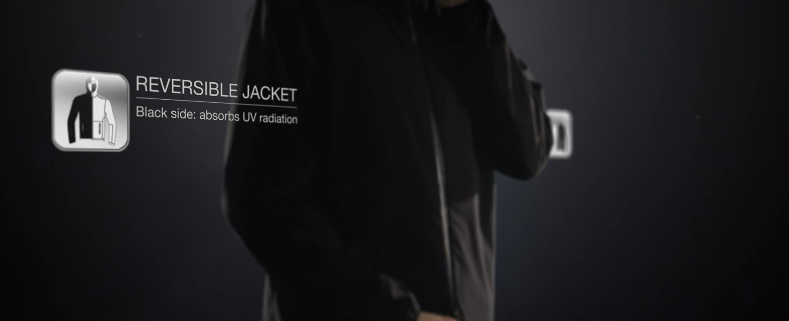 GIZMAG Porsche Design reversible jacket
The new Porsche Design reversible jacket is out now! Design: Porsche, Fabric: polychromelab.
http://www.gq-magazin.de/mode-stil/videos/porsche-design-sport
Read the german article about the reversible jacket, that cools when it's hot and warms when it's cold.
PORSCHE DESIGN SPORT
Sportkleidung
Jäckchen dreh dich: Die neue Wendejacke von Porsche Design Sport soll auf der silberfarbenen Seite 28 Prozent der Sonnen- und UV-Strahlung absorbieren und so einen kühlenden Effekt haben. Wenn man sie wendet, soll sie wiederum den Körper wärmen, da die schwarze Oberfläche 98 Prozent der Sonnen- und UV-Strahlung absorbiert, verspricht der Hersteller. Das Material soll zudem extrem abriebfest, atmungsaktiv, dehnbar und ein gutes Feuchtigkeitsmanagement bieten. Die wind- und wasserdichte Jacke erscheint in einer weltweit limitierten Auflage von 500 Stück. Das wichtigste aber für uns ist, sie sieht gut aus. Der Preis: 600 Euro. Mehr Informationen unter: www.porsche-design.com und www.adidas.com/porschedesign.
polychromelab concept store
This post is also available in: German
https://polychromelab.com/wp-content/uploads/2014/04/porsche-jacke.png
393
789
polychromelab
https://polychromelab.com/wp-content/uploads/2014/04/polychromelab.png
polychromelab
2014-04-03 18:30:24
2014-05-30 10:47:44
GIZMAG Porsche Design reversible jacket