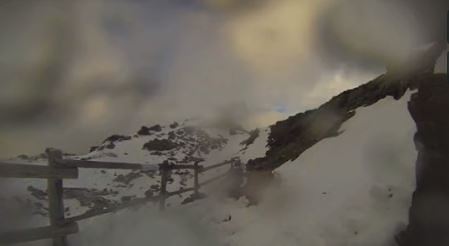 Arising of a Storm – Textiles Research Tyrol
Textiles research Tyrol: a strom over the alpine lab
From 4th to 5th November a seriously heavy storm browsed over Tyrol. At many places the storm destroyed roofes and did a lot of further damage. At the peak of Mount Glungezer nearby Innsbruck the storm was that heavy that a grown man barely could have stayed on his feet. In our high altitude laboratory for textiles research Tyrol we measured wind velocity of 264km/h.
Thanks to our webcams, which are observating the weather situations day and night, we now have a video of the weather constellation at the days before the storm and zero hour. It wasn't the first time that a heavy storm swept across Tyrol. Here's the video from our textiles research laboratory Tyrol at the Glungezer:
Heavy Storm 04/05 11 2014 polychromelab 2610 264km/h from polychromelab on Vimeo.
That's how extreme weather can be in Tyrol. The snow quickly was blown away and even so for our test dummies.
The heavy damage the storm did to our lab for textiles research Tyrol also offers an advantage for us: the measurement data afford us deep insight in the behaviour of textiles and jackets under heavy conditions, so we can improove our work for the future. This exact concept led the German company Heimplanet to us: they've tested their tents in our alpine lab polychromelab 2610.
Do you want to witness a storm like this one yourself or just want to go for a nice hike, then visit our textiles research lab at Mount Glungezer. More information about the alpine laboratory for textiles research and our host Glungezer Hütte you'll find here.
This post is also available in: German
https://polychromelab.com/wp-content/uploads/2014/11/sturm-textilforschung-tirol.jpg
246
449
polyshop14
https://polychromelab.com/wp-content/uploads/2014/04/polychromelab.png
polyshop14
2014-11-20 16:00:47
2015-04-07 15:07:12
Arising of a Storm – Textiles Research Tyrol